What good are great-looking glasses if you can't see in them?
When it comes to lenses, even one millimeter can mean the difference between comfort and eyestrain, clarity and fuzziness. At Visionist, we work with the best manufacturers in the industry and the most advanced lens technology out there to deliver on our promise of precision optics online. You have to see it to believe it.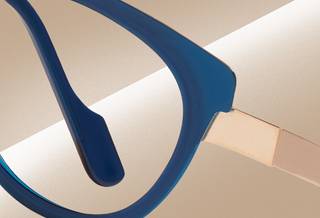 Backed by thousands of precise measurements
We can handle even the most complex prescription—all without ever meeting you in person. We start with a 3D scan of your face, taken right from your phone, capturing thousands of precise optical and anatomical measurements unique to you. Think of them as your personal eyewear password.
Eyes on every detail
Our team of optical experts translates every meticulous measurement into eyewear with a bespoke fit. Lenses are cut and finished to your exact specifications—even accounting for "position of wear," how and where the frame will sit on your individual face. Each piece is adjusted, so your eyewear feels tailor-made, right out of the box. And before anything makes its way out our door to yours, a licensed Visionist inspects every element to ensure your pair meets our exacting standards and your expectations.